We are twins from Australia with an undeniable love for health and fitness.
Our Mission
Our mission is to inspire people to make healthier lifestyle choices. Our superfoods, functional blends and plant proteins have been formulated by qualified naturopaths and nutritionists with high-quality and nourishing ingredients to boost your inner and outer health. We believe nutritious meals can be fun, colourful, delicious and easy to incorporate in every day life.
About Us
Unicorn Superfoods, founded in 2017 by twin sisters Sylvana and Cassandra, has a deeply personal story at its core. Unicorn Superfoods, founded by twin sisters Sylvana and Cassandra in 2017, has a deeply personal story.
Their journey began when a close family member's battle with cancer led to mental health challenges. They explored the connection between food and well-being, embracing natural remedies, nourishing nutrition, and exercise, experiencing transformation in their own lives.
Their personal growth inspired them to share the power of a healthy, holistic lifestyle that celebrates delicious food. They believe in the link between a balanced diet and physical and mental health, and their nutritious products aim to empower others to feel their best every day. Unicorn Superfoods is dedicated to spreading the word about the profound impact of nourishing nutrition.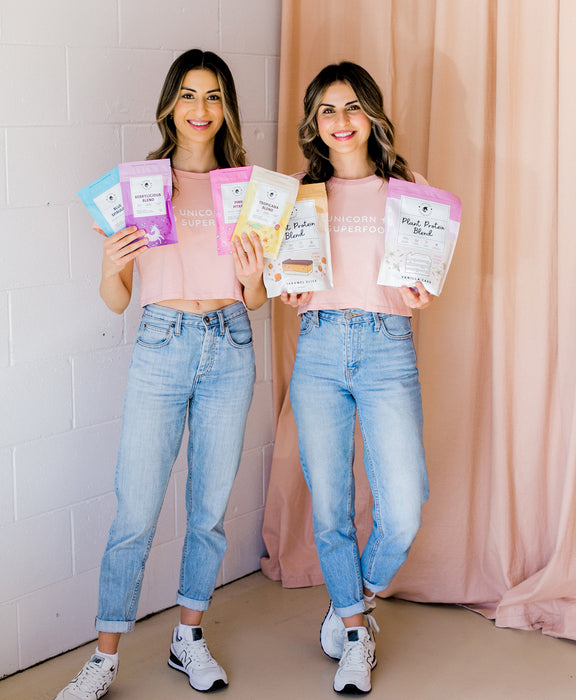 Our Promise
At Unicorn Superfoods, we promise to boost your health with our Aussie-made superfoods, blends, and plant proteins. Expect only 100% natural, non-GMO, gluten-free, and dairy-free goodness – no nasties!
Join our Unicorn Fam today and get 10% off your first order. Let's kickstart your wellness journey!
Shop Now